related articles:
>>
>>
>>
>>
>>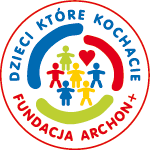 Children You Love - ARCHON+ Foundation is a non-governmental organization created in the year 2006 by arch. Barbary Mendel – the founder.

The Foundation's mission is to assist lonely children, who are deprived of parental care. Today in Poland, more than 20 000 children are waiting for a safe, loving and permanent home while living in governmental child-care institutions. They live without families lacking parental love and support. Unless we help them, they will not gain adequate life skills for their sustainability when aging out of system to become the vital and valuable part of society. The shocking statistics show that among adults: 50% homeless and 20% unemployed people were brought up in the orphanages. Therefore, our principal goal is to help families, which have taken an extremely hard role of being foster parents. We believe that they will create safe and loving homes to secure children with healthy environment to grow up and offer them the opportunity for the normal life.

The Foundation's aim is also to support biological parents that live in difficult financial conditions, in order to overcome the time of crisis, effectively bring up their children and create a happy family.

The Foundation will also provide support to teenagers in the process of becoming entirely independent, when they turn 18 and have no longer right to receive welfare support. The help will cover financial support in education and job search assistance.

The Foundation is going to establish a scholarship fund which will enable talented teenagers to continue education. It will also support them in finding jobs and establishing social cooperatives.

Children You Love – ARCHON+ Foundation has established the following goals:
· to provide assistance to children who are deprived of parental care and to children threatened with its loss
· to provide services to parents or individuals who are at risk of deprivation of parental authority
· to help foster parents and various children care institutions to be able to sustain and promote the development of their foster children
· to assist foster children, who turned 18, in their adult life to become independent and to find a job
· to provide aid to families who struggle with financial and social problems
· to provide information needed for those considering becoming foster parent
· to provide services in a professional manner by caring and appropriately trained volunteers

We believe that through all these efforts, lonely children will be able to establish more stable foundation which will help them to reach their potential in the future.

In order to achieve all the above mentioned goals we need your help and attention. Let's act together because only due to your goodwill and effort we will be able to provide assistance to others.

The income generated from selling the selected products on ARCHON+ website www.archon.pl is transmitted to the Foundation's goals.