related articles:
>>
>>
>>
>>
>>


Dear Customers,

We believe that thanks to you - our customers, we are able to develop and improve our service. We highly value your trust, confidence and appreciate your loyalty. We will always do our best to satisfy your needs and expectations.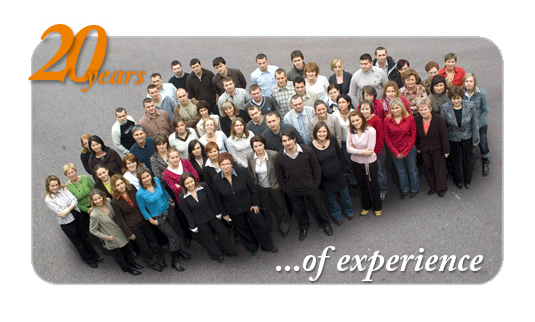 Our history - 20 years on the market: experience that brings benefits!

This year we are celebrating the 20th anniversary of ARCHON+ Design Company. We hope that we have had used this time in the proper way constantly expanding our range of projects and strengthening our position on our field of business. After many years of activity we have become a mature company, which, despite the great success, has not lost its youthful vigor and commitment of all employees.

With more than 650 house plans in the offer we are constantly looking for new ideas and solutions. As a response to changing tastes of our investors regarding the design values, we have introduced a comprehensive collection of houses with modern design. We are aware of the fact that nowadays more often younger customers are interested in building their own homes, that is why we strive to provide them with modern products, which are also energy efficient and comfortable.

We are pleased to introduce the most important events form our history below.
The History of ARCHON+
1990 – Barbara Mendel established ARCHON+ Design Company
At the beginning of 90- ties, the designing process in ARCHON+ covered only individual orders. At that time a project "Residence in Myślenice" was designed. An impressive project with the area of 290,7 sqm.
Several years of working with very demanding Clients helped formulate the new approach: house functionality has became a priority in all ARCHON+ designing.


1995 –Arises a ready-made house plans offer
The firm's offer included: construction, general supervision and a sale of construction materials. This valuable experience in construction, quality control and the overall building process gave us adequate knowledge to improve many important details in our designs.
Since then, the unique, extremely popular among Clients, style of ARCHON+ has been created.


1999 – "House on the hill" met the market expectations
It was one of the many designs from our offer presented during the construction fair and in polish catalogues of ready-made houses.
Currently, we have over 650 house designs which are functional, attractive and developed with a thought about the comfort and economy of use.


2000 – ARCHON+ moved to a new office
ARCHON+ moved into a big commercial building which was designed by our architects. The office space has been expanded to 300 sqm.


2001 – Edition of the first catalogue "Houses You Love"
A team of 10 experts decided to publish catalogue "Houses You Love", including 30 ready- made house plans.
Throughout the next couple of years we focused on reaching Clients and satisfying their needs through introducing various innovations: such as annexes, construction cost estimates and special interactive application which allows the customer to select the coloristic of the house. The firm's constant development lead to an impressive increase of market share of ready house plans in Poland.


2002 – Foreign markets entry and expansion
Since 2002r. ARCHON+ has been introducing modern technologies and European Design on the Ukrainian Market. Today, ARCHON Ukraine is one of the leaders among design companies on that market. We have been also present in Latvia since 2005, in Lithuania, Estonia, the Czech Republic since 2006, Slovakia since 2007 and in Italy since 2010. The increasing popularity of our plans reaches many other countries such as Sweden, Germany, Italy, Russia, Belarus, Moldavia.
We hope that the number of our Clients will be still growing and due to this fact, ARCHON+ will have its shares in shaping the European's landscape.


2004 – Implementing Quality Management System ISO 9001
The ISO 9001 Certificate confirms that the process of designing the architecture and construction in ARCHON + is systematically monitored and improved in accordance with international quality standards.
The aim of our business is to provide our Clients with house plans and services which qualities should be systematically improved. We hire professionals, invest in modern and innovative technologies and protect the environment – all the activities are undertaken to meet the needs of our Clients.


2006 – Barbara Mendel established "Children You Love" - ARCHON+ Foundation
The principal goal of the Foundation is to help families, which have taken an extremely hard role of being Foster Parents. We believe that they create safe and loving homes to secure children with healthy environment to grow up.
In 2007 the Foundation was granted the status of public benefit organization.
2007 – ARCHON+ " Business Fair Play 2007" and " Firm exceptionally friendly to Mothers"
Archon+ during the Final Gala for the Promotion of the Enterprise Culture was awarded with the title and the certificate "Business Fair Play 2007". Our company was also awarded in the social campaign organized by "Rzeczpospolita" Newspaper "Mother at work" – we have obtained a certificate "The Firm exceptionally friendly to Mothers"
Having received the above awards, we feel that we have chosen the right direction of the company development. We do believe that through non-standard undertakings which we convey to the benefit of our Customers, business partners and employees or by supporting people in need - we prove to be fair in any area of business.


2009 – Grand Premiere of the new catalogue "The modern house plans"
In the newest catalogue we are presenting 34 unique designs of modern houses, having a simple shape, exquisite detail and perfect functional system. For selected projects, we have also prepared the interior visualizations to show you a project "from the inside".
The latest catalog of "The modern house plans" is a response to growing interest in clients seeking house with attractive design and modern living space arranged.
2010 - 20'th anniversary of ARCHON+
Our long term experience helped us to gain the trust of thousands Clients. In order to retain it, we conduct the market research focused on meeting needs and requirements of our Customers. We have also increased the speed of our customer service maintaining the high quality of our service and products.
Due to our Clients, ARCHON+ has a chance to develop and strive for perfection therefore we greatly appreciate your interest and would like to thank you very much for the shown trust!